By: Russ Matthews
Usually, during the school holiday season, there are loads of options for families, except this year, there are few family-friendly options. With so few options for parents to choose from, it is a wonder how The Sea Beast from Netflix arrived on the scene with such little fanfare.
Set in the swashbuckling era of sea adventures and when those who sailed the uncharted seas were held up in legendary fashion. Maisie Brumble (Zaris-Angel Hator) is an orphan who lost her parents to the vicious sea beasts of the tumultuous deep waters. Instead of causing the young girl to fear the ocean, she would lose herself in the stories of the monster hunters who put their lives in harm's way to eliminate these creatures.
When she discovers that one of her heroes is in the port, Maisie decides to escape from the orphanage and go into the city to see if she can meet Jacob Holland (Karl Urban).
Jacob serves on the ship led by the legendary Captain Crow (Jared Harris) and as they celebrate their latest conquest in the pub, Maise makes herself known. Even though they have an undeniable bond, Jacob tells her to go home. Instead of listening to his demands, the fiery little girl stows away on the monster hunter's ship.
The crew tries to determine what to do with this little spitfire until they come under attack. The assault is by the beast that Captain Crow has been searching for throughout his career on the seas. This leads to a series of events that forces Jacob and Maisie to determine if the killing of these beasts was based on a misunderstanding and whether they should consider befriending these sea creatures.
A Touch of Conservation, A Whole Lot of Friendship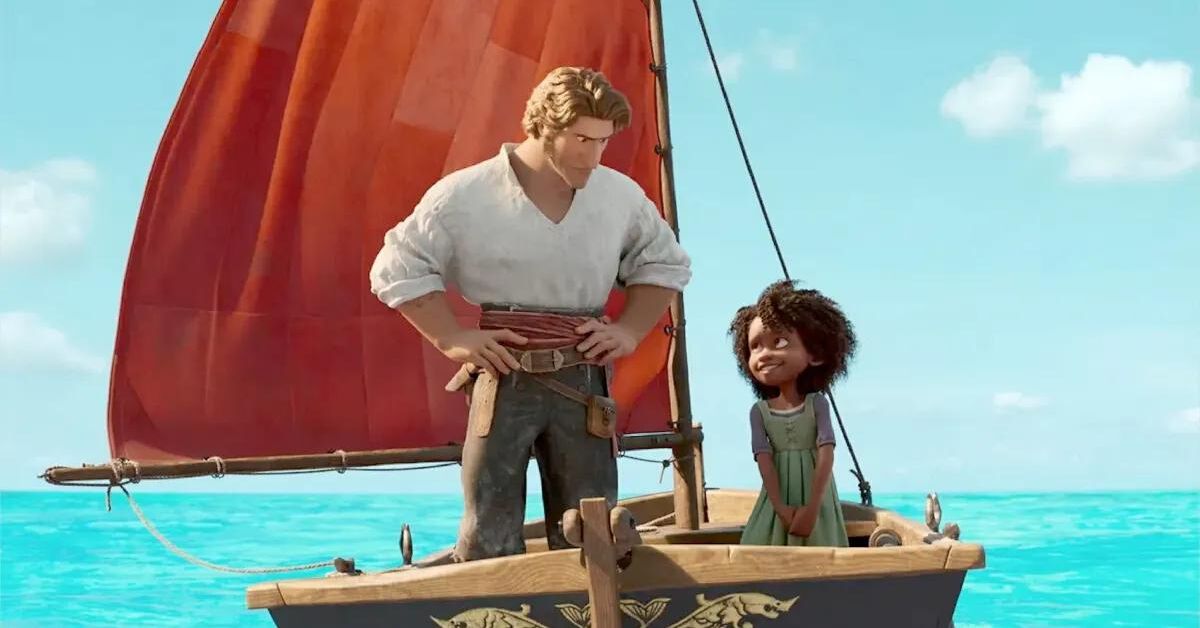 Director Chris Williams (Moana) mixes in a bit of How to Train Your Dragon, a taste of Pirates of the Caribbean and whispers of the relational tension of Moana to deliver one of the best-animated adventures of the year. Despite having a hint of a conservation message woven throughout, most of the seafaring tale is merely a straightforward story of friendship and self-discovery.
The Academy Award-winning writer has developed strong characters and solid relationships. All delivered with minimal social agendas to push. Sure, he has managed to borrow from other animated narratives. Yet, this refreshing journey proves to be entertaining to adults and children.
What Should Parents Know About The Sea Beast?
This is one of the best examples of filmmakers doing what they do best: entertaining. Chris Williams has delivered one of the rare films that should be on every family's watchlist this season. A few scary moments might be worth warning parents of small children. Still, there is little to object about in this fun and adventurous animated story.
REEL DIALOGUE: The Importance of Loyalty
Loyalty is both fascinating and confusing. It is defined as being faithful to something or someone. People will put their money, careers and lives on the line for loyalty to family, friends, or countries. In The Sea Beast, most characters show that most of their relationships are based on deep-seated commitment. It raises the question, why do we choose to be loyal or faithful to someone else? It seems rooted in wanting to place implicit trust in the person we put our faith in and knowing that this loyalty will be reciprocated.
The Bible plies a deeper meaning to the idea of loyalty. What can be seen is that God is the only one completely faithful. He is faithful even when his followers are faithless. The thing to consider is that with mankind, loyalty can be fleeting, but with God, we can find absolute loyalty and someone true to their word.
What determines your loyalty to others?
***
A man of many companions may come to ruin, but there is a friend who sticks closer than a brother. Proverbs 18:24.
---
Article supplied with thanks to City Bible Forum.
Feature image: Movie Poster
About the author: Russ Matthews is a film critic at City Bible Forum and Reel Dialogue. He has a passion for film and sparking spiritual conversations.