By: Laura Bennett
When newly crowned Australian of the Year Dylan Alcott received his award, it wasn't only a moment that recognised his extraordinary achievements on the tennis court, but it brought to the forefront a community that often exists in the Australian shadows – those living with a disability.
River Night is the co-founder of disability care agency Developing Australian Communities, and he said he admired Dylan for the way he handled his victory.
"It was really great seeing his perspective on things," River said.
"Rather than looking to be an inspiration, [his speech] was about bringing awareness. It makes a big difference to our community to see someone with a disability doing great things."
River said the biggest impact Dylan's win will have on those living with a disability is that it "creates a conversation".
"The problem with the culture here in Australia when it comes to disability, disability is seen as this thing affecting a marginalised group in the back of peoples minds," he said.
"We don't like to talk about it. But [those with a disability] make up a very large chunk of the population.
"Half the people over 65 are living with a disability – it's millions of people."
And it is for the many that Developing Australian Communities has a vision "for Australia to become the world leader in Disability Services".
But it starts with having the conversations to bring the amount of people living with disabilities out from the shadows.
For more information on the care available to Australians living with a disability, visit the Developing Australian Communities website.
---
Australian of the Year 2022 Dylan Alcott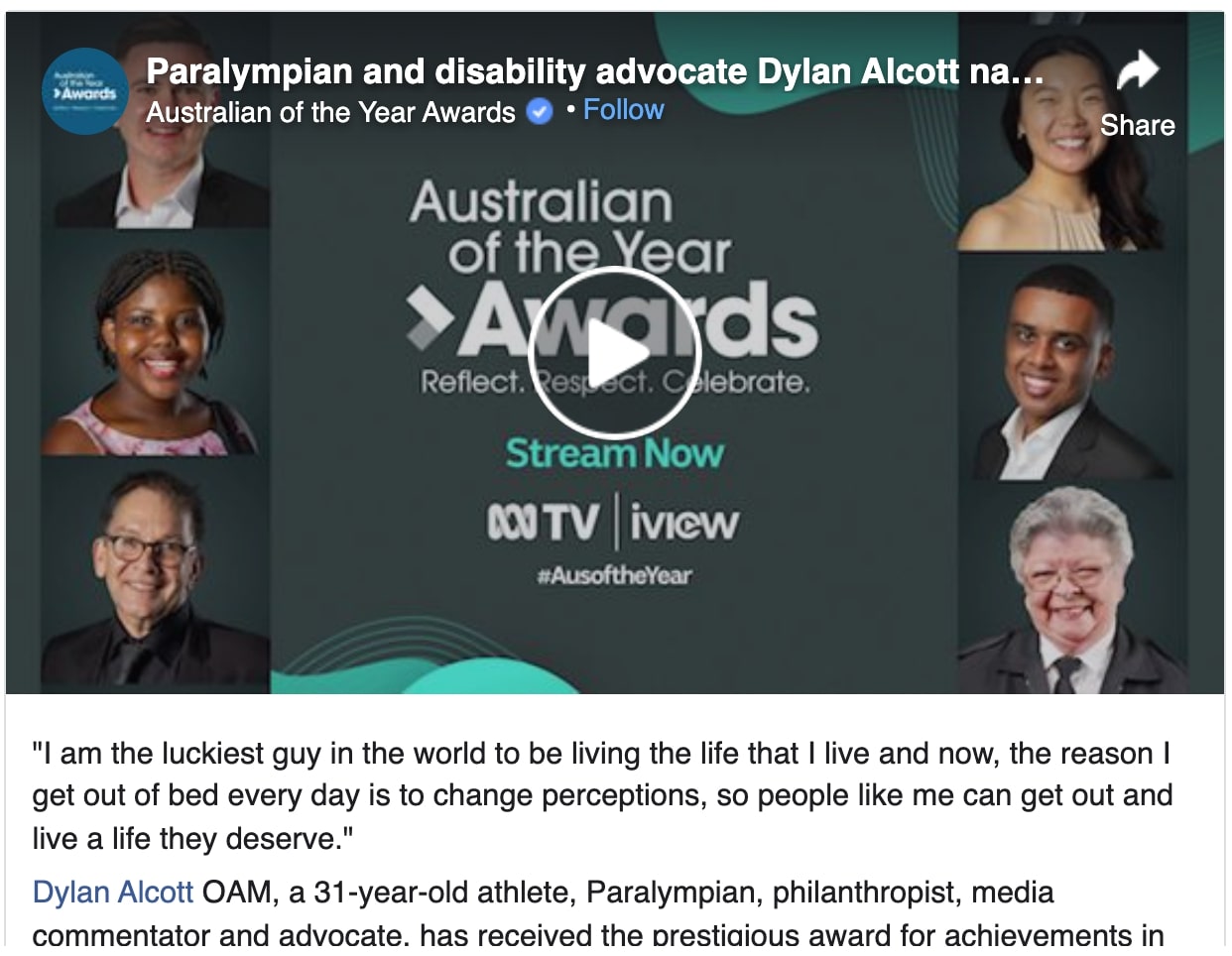 Accepting his Australia of the Year 2022 award, tennis great Dylan Alcott said that from birth he has "known nothing but having a disability" but his life's experience was at odds with public perceptions, making him question the value of his life in younger years. 
"Whenever I turned on the TV or the radio or the newspaper I never saw anybody like me. Whenever I did, it was a road safety ad when somebody drink drives, has a car accident and what's the next scene? Someone like me, in tears, because their life was over," Dylan said.
"And I thought to myself 'that's not my life'. But I believed that was going to be my life.
"And I'm so lucky that I had one of the best families, some of the best friends, my beautiful partner, Chantelle, and my whole team who told me that I was worthy, and that I was allowed to be loved."
Watch Dylan's full speech in the video above.
Article supplied with thanks to Hope Media.
About the Author: Laura is a media professional, broadcaster and writer from Sydney, Australia.
Feature image: Australian of the Year Awards Facebook