By: Beth Rivers
It was only for a moment but it was a moment Sir Richard Branson will never forget as his Virgin Galactic Unity 22 spaceflight successfully soared through Earth's atmosphere and safely touched down – making space travel for the everyday person within reach.
The mission was the first to carry a full crew of two pilots and four mission specialists including the company's founder Branson, 70, into space, where they enjoyed a brief time of weightlessness while looking back down on Earth.
"I was once a child with a dream looking up to the stars. Now I'm an adult in a spaceship looking down to our beautiful Earth," Sir Branson said on a video recording taken during the flight.
Branson couldn't wipe the smile off his face as he disembarked from Unity 22 and was greeted by family and friends on the tarmac – fist-bumping, hugging family and blowing kisses as he made his way into the spaceport.
Branson is known not only for his exploits as an entrepreneur and businessman but also for his thrill-seeking and fun side. So it was no surprise that this event came with many entertainment bells and whistles including US comedian and TV talk-show host Stephen Colbert hosting the live stream and award-winning singer songwriter Khalid performing in front of the crowd ready to welcome home the astronauts.
Running on stage to applause, an elated Branson asked the audience to excuse his confusion as he "was upside down a few minutes ago" before repeating a number of times "what a day".
"Like most kids, I have dreamt of this moment as a kid but honestly nothing can prepare you for the view from space – the whole thing was just magical," he said.
Stephen Colbert, who admitted he had poked fun at Branson over the years but they shared a passion for space travel, said the feat was nothing short of extraordinary.
"The space tourism company was founded in 2004 with a dream of sending private citizens into space," Colbert said.
"Now to do that he had to build every part of a whole new industry; he had to construct a spacecraft capable of the journey. Then, to launch these spaceplanes, he had to help create the world's first commercial spaceport and, most importantly, he had to find the people capable of turning his dream into a reality, as well as people brave enough to get on a spaceship…" he said.
Virgin Galactic is hoping to give paying customers similar experiences from next year, however, initial costings for a spaceplane seat was $US250,000, according to ABC News, and it's also not the only commercial space company with that dream as Amazon founder Jeff Bezos is also preparing for his rocket ship, New Shepard, to take off on July 20.
"@richardbranson and crew, congratulations on the flight. Can't wait to join the club!" Bezos tweeted.
Watch the full Unity 22 spaceflight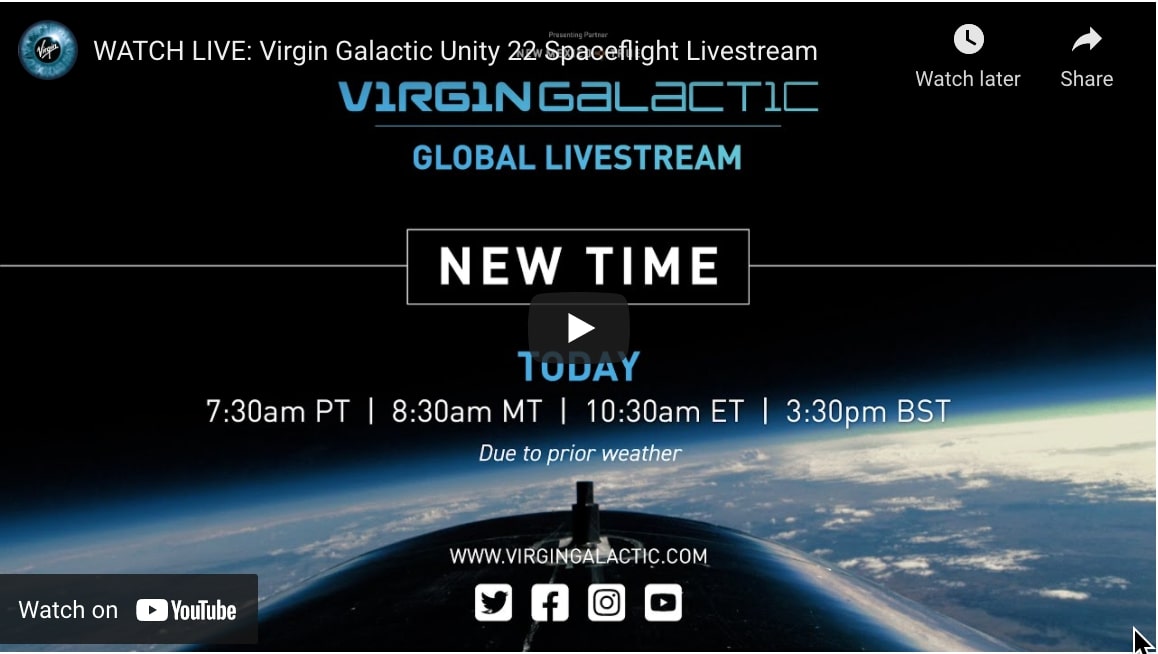 Article supplied with thanks to Hope Media.
About the Author: Beth is a digital manager and writer from Sydney, Australia.