By: Sheridan Voysey
Well here it is – my annual list of the best books I read last year, those I endorsed, and all the others worth your time. (Unlike other years I had no books I couldn't finish, so everything here is worth a look!) I preference good books over new books and that's reflected in the list, with lots of older titles among the new ones.
Have you read any of these? What others took your fancy that we should know about? I've added Amazon links for each book but please support your local bricks-and-mortar stores too – particularly your local Christian bookshop who would benefit greatly from your trade.
You can check out my reading lists for 2016, 2015, 2014 and 2013 too.
Enjoy!
Particularly Recommended
The Disciplined Heart by Caroline J Simon 
I've been thinking a lot about love in recent years (we write songs and make movies about it but I don't think we as a society actually get what it is). This fine book by philosopher/theologian Caroline Simon draws on literature, philosophy and scripture to paint a picture of love as that which helps another fulfil their God-given destiny. One of those books I'll often return to.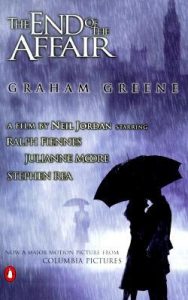 The End of the Affair by Graham Greene 
Maurice Bendrix begins a passionate, adulterous affair with Sarah Miles. Then she starts pulling away. Believing that someone else has now captured her heart, he employs a private investigator to follow Sarah's every move. Indeed there is another relationship in play, but not the kind he thinks. At times edging towards the erotic, Green's classic novel manages to stay this side of appropriate with the details while exploring the messy reality of affairs – with each other, and with God.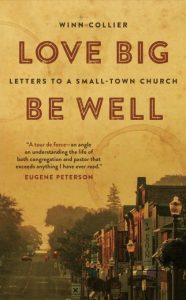 Love Big Be Well by Winn Collier
Love Big Be Well is a fine piece of writing, weaving pastoral theology into fictional form with character, pathos, humour and subtlety. As weary pastor Jonas McAnne moves to a new church in small town America, he and the church decide to get back to basics, and through a series of letters to his church those basics are explored. Here is a vision for authentic Christian community that is as earthy as it is devout. I was sad to finish this book. It's very good work.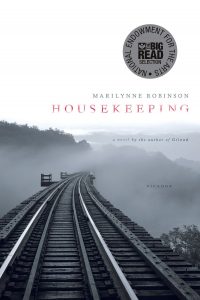 Housekeeping by Marilynne Robinson
I know, I know – Robinson has made it onto my last three lists (and you have heard my interview with her, right?). More and more I read books simply to be exposed to good writing. And Robinson is hard to beat in that department.
Books I Endorsed
Due to heavy writing and travel commitments this year I had to turn all endorsement requests away (I read each book cover to cover before endorsing it. With much of my reading work-related, there just wasn't enough time.) I read Jo Swinney's book late last year and couldn't wait to write my blurb for it, and it deserves a place on the Particularly Recommended list too. Here's my endorsement:
Home by Jo Swinney

"Jo Swinney knows what it means to be a nomad – to have a heart expanded from pursuit of a hundred horizons, yet feel heartsick for a patch of cultural and spiritual ground to call 'mine'. In Home she weaves a fabric of rich, poignant, and often hilarious stories that touch our own deep longing to belong, showing us along the way that contentment may be found in more places than we've imagined. In Swinney I've found a favourite spiritual writer, and in Home I've found a book I will return to again and again. These are wonderfully grounding words for a restless, transient age."
Other Books Read in 2017
Memoir
An American Childhood by Annie Dillard (a 1950s Pittsburg childhood becomes a model of fine memoir writing)
Dakota by Kathleen Norris (the harsh and beautiful realities of small towns and how geography shapes us)
Even in Our Darkness by Jack Deere (charismatic leader gets honest about faith in the midst of his family's decay)
English Lessons by Andrea Lucado (preacher's kid from Texas arrives in Oxford and has her faith radically challenged. Will it survive, and in what form? Beautifully written)
Fiction
A Whole Life by Robert Seethaler (solitude, change, and other details that make us who we are)
The Moon is Down by John Steinbeck (the book smuggled into Europe to embolden those under Nazi rule)
The Red Pony by John Steinbeck (more Steinbeck slice-of-life stories with classic inconclusive endings)
General Non-Fiction
The Gift by Lewis Hyde (the place of the artist in society and how their work should be given and received)
Why We Make Things and Why it Matters by Peter Korn (conclusion: we craft things with qualities we ourselves wish to embody)
The English by Jeremy Paxman (because you can't learnt too much about your adopted country)
45 by Bill Drummond (he deleted all his chart-topping songs, forgoing royalties forever. He once burned £1 million in a secluded field as a work of art. What goes on in ex-KLF member Bill Drummond's head?)
Spirituality and Theology
With Burning Hearts by Henri Nouwen (a walk down the Emmaus Road)
The Spiritual Life by Evelyn Underhill (classic reflections on the nature of faith first broadcast on the BBC)
The Return of the Prodigal Son by Henri Nouwen (prodigal sons are called to become like their welcoming father)
How to Be Here by Rob Bell (was it about living in the present or pursuing your dreams? But some good bits in there)
Columba by Ian Bradley (everyone should know about one of Ireland's greatest saints)
Colonies of Heaven by Ian Bradley (what the modern church can learn from the Celtic church)
A World Made Whole by Esther DeWaal (what modern folks can learn from Celtic folks)
The Divine Milieu by Pierre Teilhard de Chardin (still reflecting on which bits are profound and which are heresy :))
Journey by Richard Littledale (pilgrimage as a metaphor for the Christian life)
Live Full Walk Free by Cindy Bultema (how to navigate your way in a wayward and confusing culture)
Workship by Kara Martin (how to turn your everyday work into an offering of worship)
God Conversations by Tania Harris (finally, a biblically based, balanced and personal look at learning to hear God's voice)
Just Arrived
Straight from the postman or on the shelf just waiting for time.
Taking Off the Mask by Claire Musters (take off the mask and live a more authentic life)
Undivided Heart by Lucy Mills (What makes us who we are? What could make us more?)
Mosaic of Grace by James Prescott (how God can reshape broken lives)
Single Minded by Kate Wharton (living well as a single in a family-obsessed world)
Dangerous Territory by Amy Peterson (bright-eyed missionary questions her expectations. My wife loved this book)
Deep Calls to Deep by Tony Horsfall (the Psalms as a guide to God's shaping of us)
Jot That Down edited by AL Rogers (advice to new writers on honing craft and getting published)
Hark! by Paul Kerensa (the history of Christmas as told by comedian Kerensa!)
Your Turn
What are you reading that others should know about?
Article supplied with thanks to Sheridan Voysey.
About the Author: Sheridan Voysey is a writer, speaker and broadcaster on faith and spirituality. His books include Resilient, Resurrection Year, and Unseen Footprints. Get his FREE eBook Five Practices for a Resilient Life here.